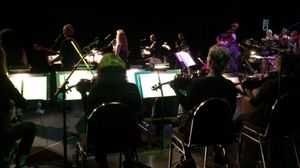 Custom Arranging & Composing By Ken Hartfield
Symphonic Rock Evolution's unique sound is due to the custom musical arrangements by Ken Hartfield.  All the songs on this site have been arranged, produced & recorded by Ken Hartfield.
If you are looking for special arrangements for your band, look no further, Ken will help you take your band to a new level by providing one of a kind, full sounding arrangements.
Available for all instrumentation for Strings, Brass, Rhythm & Percussion sections, plus vocals and choir.
For more information, contact Ken at: freezetracks3@gmail.com
Robert Piche 
October 21, 2018 
We were entertained by the Symphonic Rock Evolution tonight, Ken Hartfield your arrangements are amazing and so are the musicians, the highest caliber, congratulations my friend it was great.
------------------------------
New York-based film composer and music producer James Sizemore (The Hobbit Trilogy, Cosmopolis, Spotlight, A Dog's Purpose)
"Hi Ken, great track. Killer band! You must put on an amazing live show!"