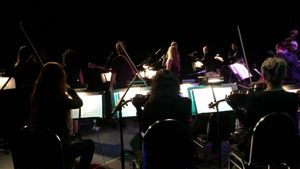 Don Klepp 
The August 27 concert was great! Ken Hartfield's arrangements of such classics as Stairway to Heaven and Baker Street allow those songs to be showcased on a whole new level. Everybody in that band is very, very, talented. Their performances were flawless and occasionally transcendent. The August 27 concert ranks right up there with concerts we've seen by EricClapton (and his large touring band), Elton John's Vegas band, Don Felder's all-star band, and Jethro Tull. If you get a chance to catch a Symphonic Rock Evolution show, drop everything and go!
Robert Piche    
We were entertained by the Symphonic Rock Evolution tonight, Ken Hartfield your arrangements are amazing and so are the musicians, the highest caliber, congratulations my friend it was great. 
New York-based film composer and music producer James Sizemore (The Hobbit Trilogy, Cosmopolis, Spotlight, A Dog's Purpose) 
"Hi Ken, great track. Killer band! You must put on an amazing live show!"
Randy Zahara
Kelowna Community Theatre Manager | City of Kelowna
250-469-8945| rzahara@kelowna.ca 
As a performing art theatre manager, I get to see a lot of unique and original material as well as a lot of tributes to popular music and acts from the past.  What Ken Hartfield has done is a combination of both.  Ken is what the sports community would call a triple threat; he is a brilliant performer, both as an accomplished musician and as a powerful and emotive baritone singer, he is an experienced and creative producer who has an ear for, and understanding of, how to use all of the creative resources available to him in the best way possible, and he is an amazing arranger.  His ability to envision orchestral arrangements for classic rock anthems and how to blend all of the production elements seamlessly into amazing new works that still contain the complete integrity of the original song, while making you feel you are hearing it for the very first time, and fall in love with it all over again, is not only genius, it is pure magic.  

We attended last evening's concert and we LOVED it!  That band was wonderful and we will go and see them again whenever we get the chance. 
  
We did not remember the name of the leader (and he was too humble to mention it out loud) but he's obviously a man of considerable talent.  To blend such extreme talents (22 of them!) with limited rehearsal time, and to do it so well---is really remarkable. The six solo voices were great! ...the horn section ...that drummer...the string section, "chair dancing" to the music...the two wonderful guitarists!  We wish the audience had been a little less restrained, but they did give a well-deserved standing ovation at the end. 
   
The evening was fantastic and way beyond our (high) expectations.  Thanks again for advertising it!  (To think we might have missed it...)
Best wishes,
Rick and Debbie Boyd

Margaret Magri 
Absolutely fantastic concert...so happy to have been able to see you. My friend Teresa Smith my dear friend brought me to see you and it was the best show I have seen in some time...Awaiting for your next performance, would love to see you again hugs.

Margaret-Ann Hooper
My husband and I thoroughly enjoyed this concert. We can't say enough about the incredible talent of this local group. It was extra special to hear people we know-Teena Gowdy and Mike Perkins. It was an excellent selection of songs and we hope to attend another concert.


Sharon Gibb
My husband and I have had the pleasure of seeing both last year's and this year's concert. I thoroughly enjoyed both concerts and I can see the passion and hard work that has been given to both.

Brenda Wolfe
Thank you & all of the band members for your passion & deliverance of what I call magical music!
 
We loved the Penticton concert. We hope you will play again. Kelowna maybe??  We have friends who would love to attend next time.  The arrangements were wonderful. Made it sound like that was the way the songs should have been played all along.  Those are some of my all-time favorites. Joe Cocker song was great..  Many thanks for a very enjoyable evening.  
Cheers,  Tim & Donna
 
Julie Oakes 
Great concert last night! The big band, symphonic world of music reached back into memories, reaffirming memorable hits and musicians. It is always a pleasure to hear live music delivered by good musicians and with such dynamic energy and belief as Ken Hartfield brings forward. We especially liked Michael Fraser's solo, the dynamic women in red and the rush of a good ending. Generous and nourishing evening. Muchas gracias!!!
 
Teresa Smith
Saw your concert tonight in Vernon. It was an excellent show...would like to go to another one if there are any more around this area. Good job, totally loved it.

Joy Allan
I just want to congratulate you on the wonderful concert you put on on Aug. 27. It was, without doubt, one of the best I have seen in Kelowna at the theatre. Your choice of songs was fantastic and I absolutely loved the huge band - strings, brass, etc. add so much! All of the lead singers had fantastic voices - I especially enjoyed Tina Gowdy!! I am sorry I didn't attend the concert you put on the year before but am hoping there will be another one in the future. I will definitely be there!! Thanks again for a wonderful evening of entertainment!!! Here's to your next production, Joy 


Sherry Green
Thank you to the entire band and the great evening of great music at the Kelowna Community Theatre on August 27, 2016. We were so well entertained and enjoyed every minute of your performance. Will certainly attend the next one!